Chemopreventive potential of curcumin in prostate cancer
Genes & Nutrition
Studying the relationship between genetics and nutrition in the improvement of human health
2009
5:152
Received: 30 March 2009
Accepted: 21 September 2009
Published: 6 October 2009
Abstract
The long latency and high incidence of prostate carcinogenesis provides the opportunity to intervene with chemoprevention in order to prevent or eradicate prostate malignancies. We present here an overview of the chemopreventive potential of curcumin (diferuloylmethane), a well-known natural compound that exhibits therapeutic promise for prostate cancer. In fact, it interferes with prostate cancer proliferation and metastasis development through the down-regulation of androgen receptor and epidermal growth factor receptor, but also through the induction of cell cycle arrest. It regulates the inflammatory response through the inhibition of pro-inflammatory mediators and the NF-κB signaling pathway. These results are consistent with this compound's ability to up-induce pro-apoptotic proteins and to down-regulate the anti-apoptotic counterparts. Alone or in combination with TRAIL-mediated immunotherapy or radiotherapy, curcumin is also reported to be a good inducer of prostate cancer cell death by apoptosis. Curcumin appears thus as a non-toxic alternative for prostate cancer prevention, treatment or co-treatment.
Keywords
CurcuminProstate cancerAndrogen receptorInflammationApoptosis
Introduction
Prostate diseases are among the most common malignancies in men in the Western world and prostate cancer is the third cause of death from cancer in men. There is a huge difference in the rate of incidence of prostate cancer between Western (120 per 100,000 in Northern America) and East Asian countries (less than 10 per 100,000 in Asia) [82]. Moreover, when Asian people migrate to Western countries, their rate of prostate cancer incidence increases. This supports the idea that lifestyle, aspects of the diet and environmental factors as well as genetic factors promote prostate cancer development [49, 84, 116]. Current therapies (radical prostatectomy, chemotherapy, local radiotherapy, or hormonotherapy), although successful to treat localized, androgen-dependent, prostate cancer are of limited efficacy against androgen-independent, metastatic disease [42]. Novel treatment modalities are therefore needed to treat hormone-resistant tumors and to prevent progression of hormone-sensitive prostate cancer to the hormone-refractory stage. Primary prevention appears as an attractive strategy to eradicate prostate cancer if one considers the high prevalence of prostate cancer and the slow progressive development of healthy prostatic epithelium to dysplasia, prostatic intraepithelial neoplasia (PIN), locally invasive adenocarcinoma and finally, metastatic disease [16, 68].
Chemoprevention with dietary phytochemicals
Chemoprevention is a prophylactic method using non-toxic natural or synthetic compounds that reverse, inhibit, or prevent the development of cancer by inhibiting specific molecular steps in the carcinogenic pathway. The goal of chemoprevention consists in the decrease of cancer incidence, by reducing simultaneously both treatment-related side effects and mortality. Most of these natural substances are present in food, notably in fruits and vegetables. These chemopreventive agents regulate cell proliferation, cell survival or cell death as well as angiogenesis, and development of metastasis [33, 99, 107].
Curcumin
Curcumin or diferuloylmethane, a polyphenolic molecule extracted from the rhizome of the plant
Curcuma longa
, is a promising chemopreventive compound. This natural compound is a yellow spice used as curry ingredient and is used since centuries in Ayurvedic, Chinese, and Hindu medicine systems as a potent anti-inflammatory agent. It is under investigation since several years for its major mechanisms of action and functions [
3
,
48
,
51
]. The reported studies revealed that curcumin possesses anti-oxidant [
11
,
56
,
86
], anti-inflammatory [
71
,
109
], anti-proliferative [
40
,
85
], and anti-angiogenic [
13
,
117
] properties against several cancer cell types [
3
,
62
] and also demonstrates anti-microbial activities [
24
,
26
]. Nowadays, curcumin is under clinical trials mainly for cancer and related diseases (Tables
1
,
2
) [
34
,
59
]. Interestingly, phase I clinical trials already demonstrated the safety of curcumin even at high doses (12 g/day); the clinical advancement of this promising natural compound is hampered by its poor water solubility and short biological half-life, resulting in low bioavailability in both plasma and tissues [
5
]. In fact, after oral administration of free curcumin (up to 12 g/day), only nanomolar concentrations of curcumin or corresponding metabolites were found in patient serum [
23
,
45
]. A more recent phase II clinical study has pointed out that these low concentrations of curcumin were able to reach a similar biological impact on NF-κB, COX-2 and phosphoSTAT-3 in peripheral blood mononuclear cells derived from treated patients than the ones observed in vitro with 5–50 μM of curcumin [
34
,
65
]. The poor bioavailability of curcumin as well as its high hydrophobicity should be overcome for future clinical applications and i.v. administration of curcumin.
Table 1
Completed clinical trials with curcumin in patients affected by cancer
| Subjects | Cancer type | Dose | References |
| --- | --- | --- | --- |
| 10 volunteers | Healthy | 500 mg/day for 1 week | Soni and Kuttan [103] |
| 25 patients | Pre-malignant lesions | 500–12,000 mg/day for 3 months | Cheng et al. [23] |
| 15 patients | Advanced colorectal cancer | 18 mg | Plummer et al. [83] |
| 15 patients | Colorectal cancer | 36–180 mg | Sharma et al. [95] |
| 15 patients | Advanced colorectal cancer | 450–3,600 mg/day for 4 months | Sharma et al. [94] |
| 12 patients | Hepatic metastases from colorectal cancer | 450–3,600 mg/day for 1 week | Garcea et al. [45] |
| 12 patients | Colorectal cancer | 450–3,600 mg/day for 1 week | Garcea et al. [46] |
| 24 volunteers | Healthy | 500–12,000 mg/day | Lao et al. [63] |
| 17 patients | Advanced pancreatic cancer | 8,000 mg/day for 2 months | Dhillon et al. [34] |
Table 2
Ongoing clinical trials involving curcumin in patients affected by cancer
Status

Trial name

Disease

Treatment applied

Clinical phase study

Active, not recruiting

Curcumin (diferuloylmethane derivative) with or without bioperine in patients with multiple myeloma

Multiple myeloma

Curcumin; bioperine

nd

Recruiting

Curcumin with pre-operative capecitabine and radiation therapy followed by surgery for rectal cancer

Rectal cancer

Radiation: radiotherapy; capecitabine; curcumin; placebo

Phase II

Recruiting

Curcumin for prevention of oral mucositis in children chemotherapy

Chemotherapy induced mucositis

Curcumin liquid extract

Phase III

Completed

Pharmacokinetics of curcumin in healthy volunteers

Healthy

Curcumin

nd

Active, not recruiting

Trial of curcumin in advanced pancreatic cancer

Adenocarcinoma; pancreatic neoplasms

Curcumin

Phase II

Active, not recruiting

Curcumin in preventing colon cancer in smokers with aberrant crypt foci

Colorectal cancer; precancerous/nonmalignant condition

Dietary supplement: curcumin

Phase II

Not yet recruiting

Bio-availability of a new liquid tumeric extract

Healthy

Liquid tumeric/curcumin extract

Phase I

Recruiting

Pilot study of curcumin formulation and Ashwagandha extract in advanced osteosarcoma

Osteosarcoma

Dietary supplement: curcumin powder, Ashwagandha extract

Phase I and II

Recruiting

Gemcitabine with curcumin for pancreatic cancer

Pancreatic cancer

Curcumin (+gemcitabine)

Phase II

Not yet recruiting

Phase III trial of gemcitabine, curcumin and celebrex in patients with metastatic colon cancer

Colon Neoplasm

Celecoxib; curcumin

Phase III

Suspended

Curcumin for treatment of intestinal adenomas in familial adenomatous polyposis (FAP)

Familial adenomatous polyposis

Dietary supplement: curcumin; dietary supplement: placebo

Phase II

Recruiting

Curcumin for treatment of intestinal adenomas in familial adenomatous polyposis (FAP)

Familial adenomatous polyposis

Curcumin

nd

Terminated

Use of curcumin in the lower gastrointestinal tract in familial adenomatous polyposis patients

Familial adenomatous polyposis

Curcumin

Phase II

Recruiting

Phase III Trial of Gemcitabine, Curcumin and Celebrex in patients with advance or inoperable pancreatic cancer

Pancreatic cancer

Gemcitabine; Curcumin; Celebrex

Phase III

Completed

Curcumin for the prevention of colon cancer

Colorectal cancer

Dietary supplement: curcumin

Phase I

Completed

The effects of curcuminoids on aberrant crypt foci in the human colon

Aberrant crypt foci

Sulindac; curcumin

nd

Not yet recruiting

A nutritional supplement capsule containing curcumin, green tea extract, polygonum cuspidatum extract, and soybean extract in healthy participants

Healthy, no evidence of disease

Dietary supplement: curcumin/green tea extract/Polygonum cuspidatum extract/soybean extract capsule

nd

Suspended

Sulindac and plant compounds in preventing colon cancer

Colorectal cancer

Dietary supplement: curcumin, rutin

Drug: quercetin, sulindac

nd

Recruiting

Curcumin for the chemoprevention of colorectal cancer

Adenomatous polyps

Curcuminoids

Phase II

Recruiting

Effect of oral curcumin on Heme-1 (HO-1) in healthy male subjects

Healthy

Dietary supplement: curcumin

Phase I
Curcumin safety and bioavailability
The potential safety of curcumin was initially demonstrated in animal models [93] and was confirmed by pharmacokinetic studies carried out in healthy human volunteers [63]. These studies revealed a high tolerance to curcumin (0.5–12 g) administrated orally with only few side effects (nausea, diarrhea). No free curcumin was found in the plasma of patients but glucuronide and sulfate conjugates could be detected [115]. Phase I clinical trials conducted in high-risk patients with pre-malignant or malignant lesions also presented curcumin as a safe and well-tolerated molecule even at high doses during several months [21, 23, 94, 95].
Albeit its high safety, the clinical advancement of curcumin has been hindered by its low solubility and its low bioavailability after oral administration (only 51.2 ng/ml in human serum after 12 g administrated orally) [5]. The low solubility (11 ng/ml in aqueous buffer pH 5.0) [113] is responsible for the poor absorption of curcumin by the human digestive tract. The low bioavailability of curcumin seems to be linked to its poor absorption, rapid metabolism, and rapid systemic elimination from the organism. In fact, the intestinal tractus is equipped with specific enzymes (UDP-glucuronosyltransferase, sulfotransferase, alcohol deshydrogenase, and p450) able to convert curcumin in relative inactive substances [57]. In order to overcome these limitations, several approaches have been tested. They include the combination of curcumin with adjuvants (e.g. piperine), and the development of delivery vehicles consisting of liposomes, nanoparticles, and phospholipid formulations of curcumin.
Curcumin analogs and structure-related activity
The comparison of curcumin with its naturally occurring analogs, corresponding to its demethoxy derivatives (demethoxycurcumin, bisdemethoxycurcumin) and to its active hydrogenated metabolites (tetrahydrocurcumin, hexahydrocurcumin and octahydrocurcumin) (Fig.
1
) pointed out structure–activity correlations. In fact, these studies revealed that the high number of
ortho
-methoxy substitutions and the high level of hydrogenation of the heptadiene moiety of curcumin are responsible for the high radical scavenging potential of the curcuminoids [
86
,
101
]. In contrast, the highest anti-inflammatory and anti-tumoral potential of curcuminoids are related to the lowest hydrogenation, to the highest level of unsaturation of the diketone moiety, and to the highest methoxylation status of the molecules [
106
].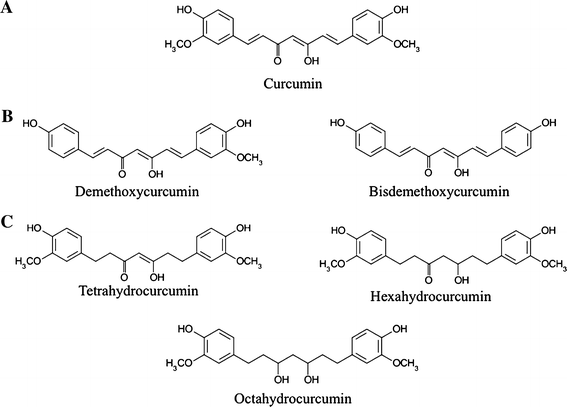 Structure–activity relationships were taken into account in order to design synthetic analogs with enhanced bioactivities [6]. The modification of the basic structure of curcumin can be achieved by acetylation, alkylation, and glycosylation of the phenolic hydroxyl group as well as by alterations of the number of carbons in the middle linker chain. Glycosylation of the curcumin aromatic ring provides a more water-soluble compound with a greater kinetic stability and a good therapeutic index [43].
Several curcumin analogs have also been designed and evaluated as potential androgen receptor antagonists to be used against androgen-dependent and -independent prostate cancer cells. These experiments revealed that the co-planarity of the β-diketone moiety and the presence of strong hydrogen bond donor group were crucial for the anti-androgenic activity of these curcumin analogs. By this way, these curcumin analogs seem to be good candidates to control androgen–receptor mediated prostate cancer growth as they may function as 17α-substituted dihydrotestosterone [81]. Following studies established an advanced structure–activity relationship for the design of new curcumin analogs to be used as potential anti-prostate cancer agents. First, the aromatic rings are required for the cytotoxic and anti-androgenic activities. The C-2′ positions of the phenyl rings should be unsubstituted. The C-3′ and C-4′ positions should be substituted with 3′ and 4′-dimethoxy and 3′-methoxy-4′-hydroxy substituents on the phenyl ring. Elongation of the linkers results in the loss of cytotoxicity and anti-androgenic activity. Finally, an unsaturated and conjugated linker is required for the cytotoxic and anti-androgenic activities [69]. Recent synthesis led to the design of a highly specific analog, containing a pentadienone moiety. It was reported to be 50 times more potent than curcumin to inhibit the growth of androgen-dependent and -independent prostate cancer cells with IC50 values in sub-micromolar range [44].
Curcumin formulations
To enhance the bioavailability of curcumin and to bring this natural compound to the forefront of therapeutic agents, numerous other approaches have been investigated [6].
The use of adjuvant like piperine (that inhibits UGTs and p450s), quercetin (that inhibits sulfotransferases) and genistein (that inhibits alcohol dehydrogenase) are mainly used to counteract the enzymes implicated in curcumin metabolism. Piperine from black pepper increases the bioavailability of curcumin by 154% in rats and by 2000% in humans without adverse effects [97].
On the other hand, nanoparticles, liposomes [77], micelles [64], and phospholipid complexes appear also as promising novel formulations as they provide longer circulation, lower hydrophobicity, better permeability of membrane barriers, and resistance to metabolic stress [5]. Curcumin encapsulated in polymeric nanoparticles demonstrates in vitro therapeutic efficacy and mechanisms of action (induction of apoptosis, inactivation of NF-κB…) comparable to free curcumin, but with a higher solubility in aqueous media [15]. Moreover, the bioavailability of encapsulated curcumin appears to be ninefold increased when compared to curcumin administered with piperine as absorption enhancer [89]. Evaluation of liposomal curcumin pointed out that this nanotechnology increases the anti-proliferative properties of curcumin in prostate cancer cells with tenfold lower dose compared to free curcumin [110].
Curcumin: a chemopreventive agent for prostate cancer
Curcumin is a highly pleïotropic molecule that modulates numerous cell signaling pathways implicated in the growth and survival of several cancer cell types, including prostate cancer [
1
]. In the following we report the state-of-the-art concerning the chemopreventive potential of curcumin on the different stages of prostate cancer and the signaling pathways implicated (Figs.
2
,
3
). Curcumin was effectively shown to have a positive impact against non-cancerous chronic bacterial prostatitis [
18
], androgen sensitive LNCaP and 22rv1, but also against androgen-independent DU145, and bone metastatic LNCaP-derivative C4-2B prostate cancer cells.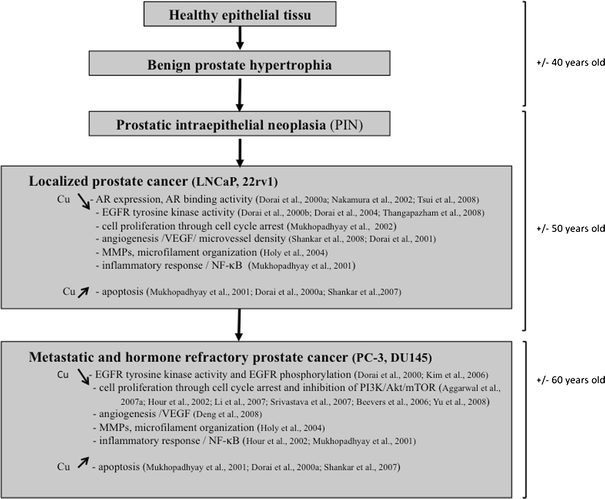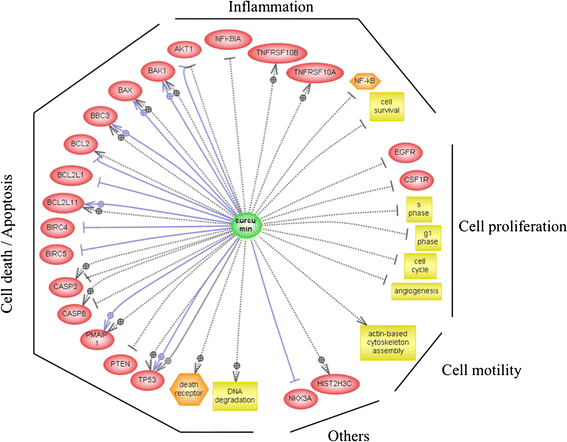 Conclusion
The initiation of prostate cancer from non-malignant prostate is a relative lengthy process that takes several years and is often related to fatty diet, inflammation, and oxidative stress [88]. The blockade of prostate carcinogenesis at really early stage by the use of chemopreventive molecules found mainly in our diet (fruits, vegetables, spices, seeds) appears then promising. In fact, as we reported here, curcumin is able to prevent prostate cancer initiation or progression as it inhibits inflammation signaling pathway highly implicated in prostate cancer progression through the regulation of NF-κB and cofactors. However, despite the fact that curcumin is well described in several cancer types for its anti-oxidant potential through the induction of phase II enzymes (glutathione S-transferase, heme oxygenase), especially by the regulation of the transcription factor Nrf2 (nuclear factor-erythroid 2-related factor 2 erythroid) [7, 11, 108], nothing was published until today concerning prostate cancer.
Several data pointed out that curcumin is able to suppress the proliferation of both androgen-dependent and androgen-independent prostate cancer cell line but also of LNCaP xenografts by interfering with growth factor receptors, cell cycle, angiogenesis, and metastasis potential of prostate cancer cells. This natural compound also promotes the induction of prostate cancer cell death by apoptosis through a well-described cascade of events and could be useful in combination with conventional treatment such as immunotherapy and radiotherapy.
With this in mind, the use of curcumin in diet or as a treatment appears as an alternative, non toxic modality for prostate cancer prevention, treatment or co-treatment with conventional therapy by which the clinician may prevent the progression of prostate cancer to its hormone refractory state or to treat advanced prostate cancer. This also gives a rationale for the prospective of curcumin in translational studies in prostate cancer cells.
Declarations
Acknowledgments
M.H. Teiten and S. Eifes were supported by Télévie grants (Fonds National de la Recherche Scientifique, Belgium). F. Gaascht is recipient of an Action Lions "Vaincre le Cancer" fellowship. Dr. Diederich's research at the Laboratoire de Biologie Moléculaire et Cellulaire du Cancer (LBMCC) is financially supported by "Recherche Cancer et Sang" foundation, by «Recherches Scientifiques Luxembourg» asbl, by «Een Häerz fir Kriibskrank Kanner» association, the Action Lions "Vaincre le Cancer" Luxembourg and Televie Luxembourg. Print costs were covered by FNR, Luxembourg.
Authors' Affiliations
(1)
Laboratoire de Biologie Moléculaire et Cellulaire du Cancer, Hôpital Kirchberg, Luxembourg, Luxembourg