Research Paper

Open Access
Metformin and soybean-derived bioactive molecules attenuate the expansion of stem cell-like epithelial subpopulation and confer apoptotic sensitivity in human colon cancer cells
Genes & Nutrition
Studying the relationship between genetics and nutrition in the improvement of human health
2015
10:49
Received: 18 May 2015
Accepted: 9 October 2015
Published: 28 October 2015
Abstract
Colorectal cancer (CRC) is a disease whose genesis may include metabolic dysregulation. Cancer stem cells are attractive targets for therapeutic interventions since their aberrant expansion may underlie tumor initiation, progression, and recurrence. To investigate the actions of metabolic regulators on cancer stem cell-like cells (CSC) in CRC, we determined the effects of soybean-derived bioactive molecules and the anti-diabetes drug metformin (MET), alone and together, on the growth, survival, and frequency of CSC in human HCT116 cells. Effects of MET (60 μM) and soybean components genistein (Gen, 2 μM), lunasin (Lun, 2 μM), β-conglycinin (β-con, 3 μM), and glycinin (Gly, 3 μM) on HCT116 cell proliferation, apoptosis, and mRNA/protein expression and on the frequency of the CSC CD133+CD44+ subpopulation by colonosphere assay and fluorescence-activated cell sorting/flow cytometry were evaluated. MET, Gen, and Lun, individually and together, inhibited HCT116 viability and colonosphere formation and, conversely, enhanced HCT116 apoptosis. Reductions in frequency of the CSC CD133+CD44+ subpopulation with MET, Gen, and Lun were found to be associated with increased PTEN and reduced FASN expression. In cells under a hyperinsulinemic state mimicking metabolic dysregulation and without and with added PTEN-specific inhibitor SF1670, colonosphere formation and frequency of the CD133+CD44+ subpopulation were decreased by MET, Lun and Gen, alone and when combined. Moreover, MET + Lun + Gen co-treatment increased the pro-apoptotic and CD133+CD44+-inhibitory efficacy of 5-fluorouracil under hyperinsulinemic conditions. Results identify molecular networks shared by MET and bioavailable soy food components, which potentially may be harnessed to increase drug efficacy in diabetic and non-diabetic patients with CRC.
Keywords
MetforminSoyLunasinGenisteinColon cancerStem-like cell
Introduction
Colorectal cancer (CRC) remains a major contributor to cancer morbidity and mortality worldwide and is the third leading cause of cancer deaths in the USA (Siegel et al. 2015). While the molecular mechanisms by which CRC begins and then progresses to metastatic disease are better understood relative to some other cancer types (Tomasetti et al. 2014; Linnekamp et al. 2015), current treatments such as with the first-line chemotherapeutic drug 5-fluorouracil (5-FU) are largely ineffective once the tumor becomes invasive, metastatic and/or chemo-resistant (Paldino et al. 2014). Hence, preventing CRC initiation, progression and recurrence and defining bona fide targets for effective therapies are paramount for reducing CRC-related mortality.
Cancer stem cells (CSC) have emerged as attractive therapeutic targets to inhibit tumor initiation, chemo-resistance, and relapse in many cancer types (Paldino et al. 2014; Zeuner et al. 2014; White and Lowry 2015). According to the CSC hypothesis, a small population of normal stem cells requisite for maintaining tissue homeostasis/renewal can initiate a tumor upon acquiring one or more driver mutations (Chandler 2010). Moreover, a recent study (Tomasetti and Vogelstein 2015) has suggested that the lifetime risk of many different types of cancer is strongly correlated with the total number of divisions of these normal self-renewing cells, and that random mutations arising during DNA replication are likely causative for the emergence of CSC. Interestingly, among the different epithelial stem cells analyzed in that study, those derived from the colon were shown to undergo one of the highest numbers of cell divisions. Inhibiting the expansion of normal SC as well as CSC may thus constitute a useful approach for CRC prevention and treatment.
Diet is a well-accepted risk factor for CRC, the latter potentially mediated by bioactive and bioavailable components in foods that can influence colon epithelial cell growth and survival (Yan et al. 2010; Spector et al. 2013). Previous work in our laboratory demonstrated that dietary intake of soy (Xiao et al. 2008) and whey (Xiao et al. 2006) protein-based diets favorably influenced insulin-signaling components and reduced intestinal tumor incidence in rats exposed to the intestinal carcinogen azoxymethane. Further, we showed in the context of a high-fat diet that a soy protein-based dietary regimen suppressed intestinal epithelial cell proliferation and systemic insulin levels in mice (Al-Dwairi et al. 2012, 2014). The association between colonic intestinal proliferation and insulin is noteworthy, given that the anti-diabetic drug metformin (1,1-dimethylbiguanide hydrochloride; MET) has recently attracted much interest as a potential anticancer medication. Several epidemiological studies reported an inverse correlation between MET intake (at standard doses of 1500–2250 mg/day) and CRC incidence and related mortality in diabetic patients (Zhang et al. 2013; Sehdev et al. 2015). Further, MET at a low dose (250 mg/day) was found to reduce colon epithelial cell proliferation and numbers of aberrant crypt foci in non-diabetic patients (Dowling et al. 2011). Moreover, combinations of MET with conventional chemotherapeutic agents 5-fluorouracil and oxaliplatin were reported to decrease recurrence of colon tumors in a mouse xenograft model (Nangia-Makker et al. 2014). Nevertheless, the potential interactions of MET and bioactive dietary components with known anti-tumor activities for CRC prevention and treatment, and specifically in the context of targeting CSC, have not been delineated. The importance of the latter is underscored by recent reports that dietary factors including the soy isoflavone genistein (Gen) (Montales et al. 2012; Rahal et al. 2013), polyphenolic compounds present in blueberries (Montales et al. 2012), curcumin (Kakarala et al. 2010), and resveratrol (Kao et al. 2009), all of which have been reported to possess anti-metabolic/anti-diabetic properties (Gilbert and Liu 2013; Valsecchi 2013; Yeh et al. 2014; Rouse et al. 2014), can inhibit expansion of basal stem-like mammary cells with tumorigenic potential.
Here, we evaluated the effects of MET and several bioavailable and bioactive molecules present in soy protein isolate, namely the isoflavone Gen, peptide lunasin (Lun), and proteins β-conglycinin (β-con) and glycinin (Gly), alone and in combination, on the survival of CSCs present in the human colon cancer cell line HCT116 (Yeung et al. 2010). We examined potential chemo-preventive mechanisms of these components in CSCs and determined whether the combination of MET, Gen, and Lun with 5-FU could increase CRC cell death relative to 5-FU alone. Our results show that MET, Gen, and Lun together confer enhanced inhibitory effects on CSC expansion and suggest that the targeting of CSC with these molecules should be further explored for the clinical management of CRC.
Discussion
CRC is increasingly considered to have metabolic underpinnings; hence, dietary factors that maintain metabolic homeostasis or normalize metabolic dysfunction may be beneficial to inhibiting CRC progression, metastasis, and relapse. Clinical and epidemiological studies have implicated the anti-diabetic drug metformin (MET) in reducing the risk of CRC among diabetic patients as well as improving CRC outcome in patients with diabetes (Dowling et al. 2011; Zhang et al. 2013; Nangia-Makker et al. 2014; Sehdev et al. 2015). Additionally, in diabetic patients with CRC, the decrease in mortality with MET was inversely associated with the frequency of CD133+ subpopulation with CSC properties (Zhang et al. 2013). Nevertheless, MET effects on colon cancer remain controversial (Sui et al. 2014). Moreover, MET elicits unfavorable side effects in some individuals, precluding its use at typically prescribed doses for diabetic patients. Thus, factors that could increase the efficacy of MET may be advantageous for its inclusion as a therapy to address CRC prevention and/or treatment.
Previous studies in several laboratories including our own (Xiao et al. 2008; Al-Dwairi et al. 2012; Yeh et al. 2014; Isanga and Zhang 2011) have shown that soybean components when consumed can favorably affect metabolic pathways and associated genes in animal models and in humans. Moreover, in a mouse model of breast cancer and in breast cancer cells in vitro, dietary intake of soy protein isolate and treatment with Gen, respectively, decreased the frequency of the mammary basal stem cell-like subpopulation, which was associated with decreased mammary tumor incidence and oncogenic molecular profile (Montales et al. 2012; Rahal et al. 2013). Based on this previous body of work, we hypothesized that combination(s) of MET and bioactive soy factors would increase the therapeutic efficacy of the CRC drug 5-FU by targeting cancer stem cells. Our findings present a novel and potentially important role for combination MET, Lun, and Gen in not only reducing cancer cell viability and survival, but in limiting the frequency of the cancer cell subpopulation (CD133+CD44+) with self-renewal properties. We also provide evidence, using the PTEN-specific inhibitor SF1760 and insulin, to indicate that MET, Gen, and Lun actions are comparably mediated by their concurrent induction of tumor suppressor PTEN and inhibition of pro-oncogenic FASN expression. The functional significance of these results is supported by the increased efficacy of 5-FU in eliminating CSCs under high-insulin conditions, the latter mimicking aspects of type 2 diabetes and/or obesity, when co-exposed with MET, Gen, and Lun.
In these studies, we primarily utilized the human colon cancer cell line HCT116 since its highly aggressive nature and increased proportion of non-differentiating CSCs are clinically correlated with lymph node metastases and reduced survival (Yeung et al. 2010). We show that relative to the more differentiated, less aggressive colon cancer cell line HT29, HCT116 cells exhibit a greater proportion of the CSC subpopulation (designated CD133+CD44+), increased ability to form colonospheres (a measure of tumor-forming ability and self-renewal in vitro), and enhanced expression of CSC genes. Using these cells to model aggressive CRC in vitro, we observed that MET, Gen, and Lun, individually and together, limited the expansion of the CSC subpopulation, suggesting their potential value in inhibiting disease progression and conceivably, metastasis and recurrence. The higher efficacy of Gen relative to MET, at the doses used here, in reducing colonosphere formation under high-insulin conditions is a novel and an unexpected finding. Previous studies have shown a dose-related inverse association between soy consumption and CRC risk (Yan et al. 2010). Nevertheless, molecular mechanisms to explain the preventative effects of soy on colon cancer remain relatively unknown. The demonstration of the efficacy of Gen, Lun, and Gly in targeting CSCs at relatively low doses (2–3 uM) suggests their potential to reduce currently prescribed doses of CRC conventional therapies with adverse side effects. While our data point to potential combination therapies of soybean components and 5FU, the current study has not attempted the complex task of defining optimal doses for these single agents and combinations (future studies). Our findings also provide an impetus to pursue preclinical studies of these bioactive molecules in animal models of colon cancer metastasis and under conditions of hyperinsulinemia.
The present data identify PTEN and FASN as target genes for MET, Lun, and Gen in the CSC subpopulation (Fig.
6
). The bioactive molecules did not demonstrate additive or synergistic effects on PTEN and FASN expression, possibly indicating that once the threshold induction (for PTEN) or reduction (for FASN) in these signaling pathways is achieved, further blocking of the CSC self-renewal/expansion by these molecules becomes limited. The latter idea is consistent with the notion that additional pathways independent of MET, Lun, and Gen signaling regulate CSC expansion. Our observations that MET alone was less effective than MET + Gen in inhibiting CSC expansion, however, suggest that Gen affects other pathways to further limit CSC expansion and hence, CRC (Fig.
6
). The identities of these potential contributing pathways are unknown, but may involve inflammatory, cytokine/chemokine, and epithelial–mesenchymal transition signaling, each of which has been separately linked to the promotion of CSCs when aberrantly activated (Bruttel and Wischhusen
2014
) and to the favorable health effects of soy when inhibited (Hsu et al.
2010
).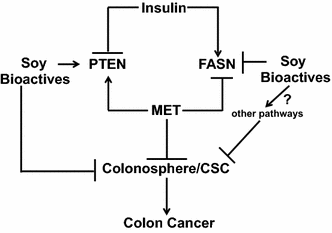 Conclusions
The present study utilizing an in vitro model of aggressive colon cancer in a hyperinsulinemic environment, provides insight into molecular networks shared by the well-prescribed, anti-diabetic drug MET and bioactive/bioavailable soy food components, which potentially may be harnessed to increase drug efficacy in patients with CRC. Additionally, given that PTEN loss of function/expression is a hallmark of many primary and metastatic CRCs, our results suggest further exploration of the potential of combination therapy with MET and the soy factors to improve CRC outcome. Induction of tumor suppressor PTEN expression in cancer cells by dietary bioactive factors is an emerging theme (Liu et al. 2013; Pabona et al. 2013) that warrants further confirmation in vivo. In addition, our results for β-conglycinin and glycinin suggest further examination of these molecules for efficacy in CRC, in light of their high abundance and bioavailability either as intact or smaller proteins/peptides in consumed soy products. The mode(s) of action of these two latter proteins in cancer cell growth regulation remain virtually unexplored, with the exception of a previous report on β-conglycinin as being inhibitory to leukemia cell growth in vitro (Wang et al. 2008). Finally, the identification of food constituents that target CSCs underscores the potential importance of diet/nutrition in the genesis (and treatment) of primary and metastatic CRC and of other cancer types with metabolic underpinnings.
Abbreviations
β-con:

β-Conglycinin
CSC:

Cancer stem cell
CRC:

Colorectal cancer
FASN:

Fatty acid synthase
5-FU:

5-Fluorouracil
Gen:

Genistein
Gly:

Glycinin
Met:

Metformin
PTEN:

Phosphatase and tensin homologue deleted on chromosome ten
QPCR:

Real-time quantitative polymerase chain reaction
Declarations
Acknowledgments
We thank other members of our laboratories for helpful discussions during the course of this work. We are also grateful to Lorenzo Fernandes and Eric Siegel for their assistance with statistical analysis and data presentation.
Authors' contributions
MTM carried out the experiments and performed statistical analysis. EF and VN performed the extraction and purification of β-conglycinin and glycinin. MTM, RCMS, and FAS interpreted the data and drafted the manuscript. RCMS and FAS supervised the entire project. All authors read and approved the final manuscript.
Funding
This work was supported by NIH R01CA136493, NIH UL1TR000039, and the Huie Family Trust.
Authors' Affiliations
(1)
Department of Physiology and Biophysics, Winthrop Rockefeller Cancer Institute, University of Arkansas for Medical Sciences, Little Rock, USA
(2)
Department of Bromatological Analysis, Federal University of Bahia, Salvador, Brazil
(3)
Department of Food and Nutrition, School of Pharmaceutical Science, São Paulo State University (UNESP), Araraquara, Brazil
Copyright
© Springer-Verlag Berlin Heidelberg 2015